Thursday, June 22, 2006
One Down ...
... one to go.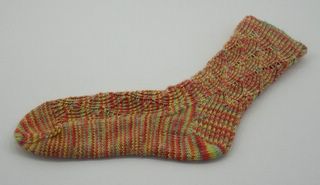 The most boring shot of a sock taken in the history of blogdom, ever!
I'm really enjoying the clever patterning in this sock, the way the ribbing of the cuff merges onto the scale pattern then back to ribbing for the heel, so I don't know why it has taken me so long to finish this one lone sock.
If truth be told I feel like I've slipped into a bit of a funk in the last few months, I'm feeling lazy & uninspired, I've only got a few small projects on the needles at the moment, perhaps all I need to get me back into the swing of things again is a big project, like the Rebecca Apricot Jacke I've been threatening to start for months now.
I think I'll finish J's gloves first though, every night he's been asking me when they're going to get fingers!
Fingerless gloves don't concern Penny, she's got far more important things to worry about, like should she scratch her ear or chase her tail?
Comments:
I am in a bit of a funk with my knitting to..But I have the problem of I HAVE to knit..I have a BOSS!!! I have had this second lot of stuff for just over a week and I have done a back and 1/4 of the front of a baby jumper!! SLACKER I am....
Katt
Post a Comment
<< Home