Thursday, November 23, 2006
Moving Out
I'm moving over
here
, come on over for a visit.
Wednesday, November 15, 2006
And The Winner Is....
Glenys (unfortunatley blogless) - congratulations!
A HUGE thankyou to everyone who took the time to enter, thanks to your imput some exciting new yarns & colourways are on their way!
The dyeing for Ecoyarns has kept me pretty busy but I have been working on a doily for my Mum for Christmas.
This is a different design that the doily I blogged about before, the other one turned out too small, more of a coaster than a doily.

I doubt I'll get another one done before Christmas because I still have the two felted bags to finish & a shrug for my eldest niece to knit, it might have to wait till Mother's Day.
Friday, November 10, 2006
All Work & No Play
Makes this a very boring blog!
Here is the reason I have been so quiet lately: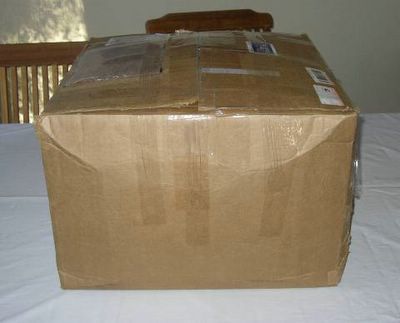 But that's just a box I hear you say.

Yes, that is just a box, but it's a very special box.

Inside can be found gorgous Merino, Baby Alpaca & Cotton yarns dyed in 5 brand new colourways, exclusive to Ecoyarns.
I must keep you in suspense however as I don't have permision to reveal the colourways yet.
As for the competition, I will be drawing it next Wednesday, so if you haven't already, enter now for your chance to win 100g of Elizabeth yarn dyed in the colourway of your choice!
Thursday, October 26, 2006
I NEED YOU!
I'm throwing it open for you to help me choose which yarns to stock in the store.
I want as many opinions as I can get, so anyone who knits, has thought about knitting... crochet even, direct them here, because I want to know - What do YOU want?
Edited to add: All entries will be put in the draw to win 100g of Elizabeth 4ply Merino dyed in the colourway of their choice!
Friday, October 20, 2006
Get Felted!
I finished up the Weekend Getaway Satchel and felted it with the Sophie bag over the weekend.
Felted bags with Penny for scale
Sophie didn't felt as much as I would have liked but the satchel felted like a dream. I had the same problem with the first Sophie I made, light coloured yarn does NOT felt well, when am I going to learn?
I still haven't decided on handles for the satchel & I'd like to put a purse frame in it too, I think it's gonna look great when it's all finished!
I've found another felted bag pattern that I'm gonna make next at Garnstudio.
Friday, October 13, 2006
OMG!
I am in a spin, I have just discovered that
Phildar
have finally started printing their patterns in English & you can order directly from them!
I absolutely love Phildar patterns & in the past have paid an exhorbitant amount of money to get the English translations from England or the US but no more!
I have some actual knitting content today, I even have photo's to proove it - see.
Pre-felted Sophie bag as modeled by Penny
I am also around halfway through the Weekend Getaway Satchel. Since I'm knitting it in black I will save you the picture of an unidentifiable black blob, for now.
I know this is supposed to be a knitting blog but I have to confess, before I was a knitter, I was a crocheter (is that even a word?).
Anyway my Mum said she was looking for some doily's but couldn't find any she liked, so I have started a crochet doily to give to her for Christmas.
Crochet is kind of like lace knitting it looks crap until you block it!
In other non-knitting news I thought I'd share with you Penny's latest trick. I'm still working on getting her to do it on command but she does volunteer it a lot.
Aww, how cute

*Double OMG, I have actually been able to post. Blogger has not been playing nice lately & frequently won't let me log in, stupid thing!
Wednesday, October 04, 2006
She Lives
Yes, I am still here. A lot of behind the scenes
Live 2 Knit
stuff has been keeping me busy, busy, busy!
I have moved to a new shopfront & location
www.live2knit.com.au
, very exciting! (Don't forget to update your links).
I'd love for you all to pop over & have a look & let me know what you think, any suggestions or improvements would be most welcome.
Not much knitting happening, the fronts of the Rebecca cardi have stalled in favour of some Christmas knitting, how organised is that?
One
Sophie bag
& the
Weekend Getaway Satchel
from the Spring 05 Interweave Knits, though mine will be MUCH smaller!