Monday, December 19, 2005
Christmas Offerings
Well SP6 has finally wrapped up & I can finally reveal that
Cindy
was my Secret Pal. Due to a bit of a mix up I also had her, which made it kind of interesting.
I received the final parcel on Sunday (got to love those extra Christmas mail deliveries), inside were many great things including the new Yarn magazine, which I have been looking for everywhere, a great sock tote which she made and is just perfect for my SIP, there was also a little knitters toolkit which inlcuded all the things youu need when you're on the go like cable needles, needle sizer and hand cream.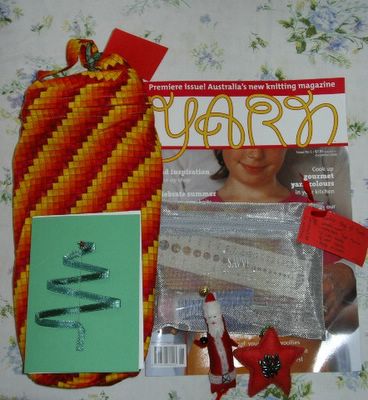 There were also a couple of little Chrismas ornaments and a very simple but effective card that was made by sewing some ribbon onto card in the form of a Christmas tree.
Thanks Cindy for being a fantastic SP, you certainly made the whole experience thoroughly enjoyable.
I've finally finished the few gifts I am making this year, firstly some memory boards using some funky Alexander Henry fabric.
This was easy as to make. I just stapled the fabric onto a stretched artists canvas, stapled on the ribbon, sewed on some buttons where the ribbon crossed and then finally stapled some curtain lining onto the back to hide all the messy bits and a piece of string to hang it from.
I also made this braclet for my Grandma, considering I'm a beading novice I think it came out quite well.
I haven't yet made a sock with a flap heel so I thought I would give it a go with
this
cute little mini sock.
I'm so pleased with the way it came out I'm going to make some more to give as little presents with chocolates or lollies inside. I think they would make great Christmas decorations too.
Comments:
Hi Katie, your Secret Pal's no Secret anymore!!! You've been such a wonderful SP, and I loved all of your presents and so did the Labradors. Love the cute mini sock!!
Love
Cindy,
Harki-Parki-Parker-Posey and
Peri Naughty the Golden Labradors
Post a Comment
<< Home