Wednesday, December 07, 2005
Beginnings, Middles & Ends
I know I said I wasn't going to be doing any more dyeing until the New Year but, but, but...
I needed a small, portable car project as we're going on a road trip up to
Bright
this weekend so J can train for the
Audax
in January.
Since I've just finished a pair of socks, I just had to cast on for another and since I haven't yet knit any socks out of my own hand dyed yarn and I wanted to try out a new colourway why not kill two birds with one stone.
Beginnings
I've also joined the
Sock it to me Summer
Knit Along cause socks are just the perfect summer knitting.
Middle
Selma is coming along nicely, I've almost finished the waist decreases so not long until the two pieces become one.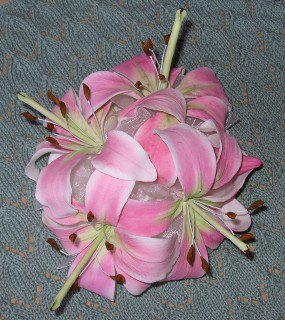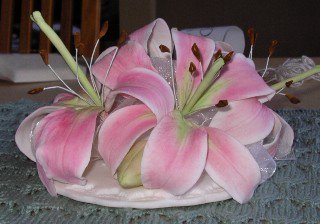 End...
The flowers are finished at long last! I arranged them on a plaque last night so that they can just be placed on the cake when it's ready. It also allows the couple to take the flowers off in one piece and keep them as a souvenir if they like. I'm pretty happy with the way they've come out, now to find a safe place to store them until February. (Yes, that is Lacey as yet unblocked under there, so?)

Another end is the end of SP6. Here's the cool advent calander by SP made for me. It's been a bit of a battle between J & I as to who gets the goodies, so far I've allowed him a few eclairs but the lindt balls are all mine, mine I tells you!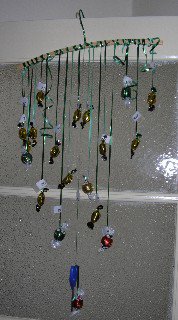 I've had a blast with this & am sad that it's over. I'm not going to reveal who I've been spoiling just yet, but I'm pretty sure she has an idea who it was anyway due to a bit of a mixup with the Aussie Secret Pals but it's certainly been fun anyway, I think I'll definitely be participating in this exchange again.
Comments:
Oh my word - how far are you cycling??? Just think - on a tandem J could pedal and you could.... knit socks!!!
Whay beautiful wool you have dyed for your socks!!!
How lovely are those flowers?? The bride and groom are very lucky.
I'm pretty sure about the knowing thing too, however I love it that there has been a total suspension of disbelief and everyone has carried on regardless!!!! Very British stiff upper lip of us all!!
I would just like to apologise again for the coathanger incident!!!!!
Love,
Your Secret Pal
I love those flowers! Bet they go down well!
Love the sock yarn you are using too! VERY pretty.
Love the Advent calender! Very imaginative.
Katt
Post a Comment
<< Home