Monday, October 24, 2005
Lioning About!
A lazy Saturday morning care of my Secretpal.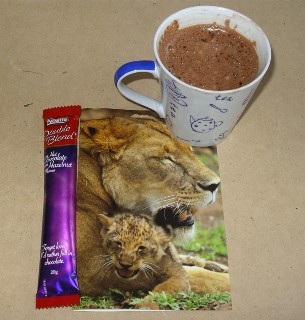 Forget Love, I'd rather follow chocolate! (Thanks SP, just what I needed!)
My poor knitting has been woefully neglected the last couple of weeks, I've sent a lot of time winding yarn & even more time untangling it! J has been employed as my official skein holder, he has been very patient about it all but I really need to get a swift quick!
I'm feeling a little stressed at the moment because I have committed myself to selling at the Dingley Craft Market next month, I'm not sure how sucessful I will be, but I thought it would be worth a shot. It's on the 6th November so I've been madly dyeing, sewing & beading in preperation. Luckily next Tuesday is a public holiday & I have organised to have Monday off work too so I can dedicate the whole weekend to market stuff. Wish me luck!
Comments:
Katie, how exciting!! Selling your wool and other things!! I don't think you need luck!! If I was walking past I would definitely buy some of your gorgeous wool. I noticed that on the Knitty Blog :
http://knitty.com/blog/ thay had little cards with pattern URLs etc to enthuse people at one of the stalls. I expect you have one to your site already!!! Try not to be too stressed, be positive!! Often the anticipation is much worse than the actual thing. Sounds like you will have a busy week!!
Happy crafting!!
Love, Your Secret Pal
Post a Comment
<< Home