Thursday, September 15, 2005
I've finally got my act together with
Selma
& have reworked the pattern to accomodate my ample posterior, using the small size for the bottom & decreasing to the X-small size up top (I know doesn't sound that ample does it!). I've cast on & am currently up to the decreases to drop down to the next size.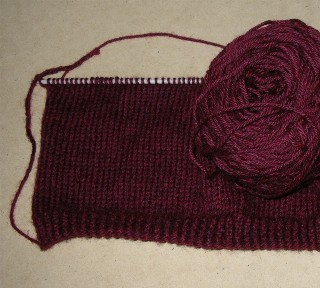 I'm using Jo Sharp DK in the Brocade colourway (which I absoultely love by the way) but am finding it a bit scratchy compared to the yarns I've been using recently. It will make a beautifully warm winter tunic when I am finished with it but it definitely won't be a wear next to the skin item, especially not next to my sensitive skin!
I feel a bit wierd knitting a winter top coming into spring but the weather is currently accomodating me so I think I'll run with it for the time being.
I also pulled out my Monet scarf & am re-knitting it using
this
pattern.
I'm getting a wierd pooling effect which I quite like & am debating whether I should rip it & try to make it really pool, but am having trouble finding a stitch pattern to work it in, any suggestions?
Comments:
Hi
I really like your scarf but a good pattern for multicoloured yarns is the multidirectional scarf there is a yahoo group for it with lotsof pictures. I have just finished knitting one and i am really pleased.
Post a Comment
<< Home