Tuesday, September 20, 2005
Car Knitting
Gotta love some car knitting. On Sunday I went to visit my Grandma, she lives in Leongatha, around 1.5hrs out of Melbourne & since Mum was driving I managed to get a bit done on J's socks. Not long now they will be Fini!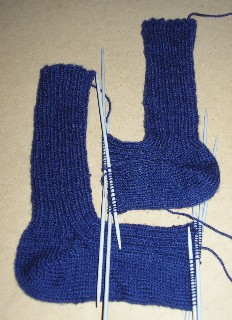 I'm using Paton's Patonyle sock yarn (80% Superwash wool/20% Nylon) & in the first pair of socks I made the heels have felted - very curious!
I have been maching washing them on the warm delicate cycle & air drying them, so I don't think that is the problem but I must admit that J wears them just as normal everyday work/boot socks, which begs the question should hand knit socks only be worn sparingly or on special occasions?
I asked the
Sockmonsters
if this had happened to any of them & a few of them said it had with various types of sock yarn. Their advice was that it makes the heels a bit more snug fitting & actually reinforces the heel a bit, so not to worry about it too much. I mentioned it to J when I first noticed it & he hadn't even noticed the difference so I think I'll just leave it at that.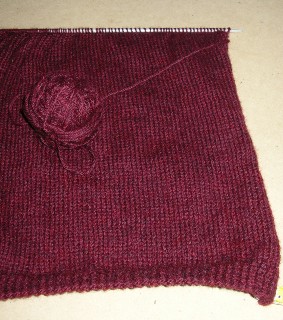 Selma seems to be flying along, it's just miles & miles of stockinette but for some reason she seems to be going quickly. I'm up to row 94 and only have another 50 rows to go before I start the armhole shaping & then it's all downhill from there!
Comments:
Dear Katie, you are so lucky to be able to knit in the car!! The socks look very comfy. I was reading on the Wool Shack discussions that you might be able to buy some kind of reinforcing to knit into the heel of socks. This might help. I think it might be the natural reaction of the wool , to felt, as you treat them well, and they should be worn every day. In days of yore they were the only kind of sock. Selma is looking fine too, not far to go now....
Love,
Your Secret Pal
Post a Comment
<< Home