Friday, July 22, 2005
Portrait - Tête de Viande Avec L'écharpe
The Monet scarf is finished. It was a satisfyingly quick knit with a gorgeous bulky yarn and big needles a welcome relief from the ongoing lace stuggles of the last couple of weeks.
I just have to say I love this stitch pattern, it's so simple and it shows off the verigations in this yarn beautifully - see.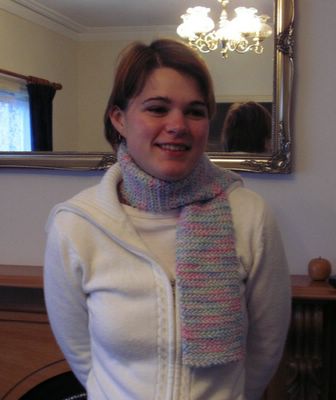 Meathead with Scarf
(Please excuse my meatheadedness, it was a rather rushed photoshoot with my impatient fiancee on camera duty. I'll try to get some better photo's over the weekend.)
I used 3 skeins of the Alpaca/Silk blend on 8mm needles and it turned out to be about 12cm wide and 1m long. My only concern is that I should have gone up a couple of needle sizes as this stitch pattern has made for a rather substantial fabric, on the up side of that it should keep even the chilliest of Melbourne winds off my neck.