Monday, July 04, 2005
Mondayitis
I HATE End of Financial Year! It's our busiest time of year at work, so on Thursday night I didn't get home until 9.30pm, then I was back again at 7am Friday morning. Overall we took over 2700 phone calls on Thursday & just under 1500 on Friday, not bad for a company with less than 50 employees!
On Saturday I picked up my new car, it's a Toyota Corolla wagon and my very first brand new car - very exciting!
The second thing I made for myself after I started knitting was
this
jacket. It took me a year to finish it & ever since then I have been looking for the perfect closure for it. I think I have finally found it in this cute little brooch I picked up after meeting my Mum for lunch last week..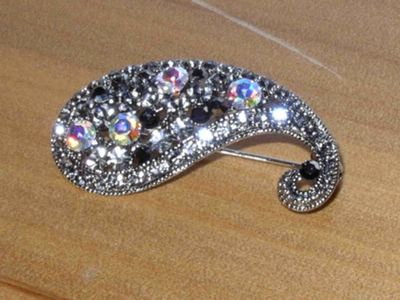 After a few false starts I've finally got some progress happening on the Waves of Lace scarf/stole and it's looking great. I'm loving using this yarn, it's so delicously soft I keep stopping every couple of rows to rub it against my face. It knits up easily and the colour grows on me the more I progress.
I also started sock #2. I have this theory that if I knit half of sock #1, then start sock #2 I won't get SSS (Second Sock Syndrome), it's worth a try anyway, not much to see on that one yet, mainly just needles sticking out in all directions.