Sunday, June 05, 2005
New Colours
I've got some new colours in the Live 2 Knit range:
50% Peruvian Baby Alpaca/50% Silk
Peppermint
&
Violet
100% Peruvian Baby Alpaca
Lime
&
Copper
Go and check them out!
I had the dreaded leurgy last weekend so I didn't feel up to doing much, I managed a little knitting though.
I started another
sock
, finally ripped out the back of lacey and restarted it in the smaller size and knit a cozy scarf from some of the Baby Alpaca/Silk.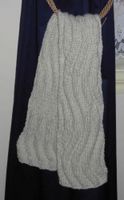 I cast on 27sts on 8mm needles and followed the pattern for
wavy
from Knitty. It took 3 skeins and ended up 20cm wide & 1m long. I've never been much of a scarf person but it's so cuddly & soft I haven't wanted to take it off.