Saturday, May 28, 2005
The birth of Live 2 Knit
Been a bit quiet on the blog lately partly cause we've just come back (well two weeks ago now) from a lovely holiday on the
Whitsunday Coast
in not-so-sunny Queensland. The Queensland tagline is 'Beautiful One Day, Perfect the Next' unfortunatly for us it was unseasonally windy and rainy but thankfully still warm. Our first three days were spent sailing aboard a 40 ft catamaran, where hygiene was apparently on holidays too. It was to the point where we didn't want to eat or drink for fear of having to use the toxic looking head (bathroom), and a reluctance to go below to our cabin due to a mysterious stench that was only identified on the last day as a stack of dirty dishes that had been stowed in the locker beneath our bunk for God knows how long! The highlight of the sailing trip was an introductory scuba dive which was most exciting and almost made it all worthwhile. Our remaining time was spent at the wonderfully clean
Club Crocodile Resort
on Long Island.
The other reason has been a top secret project, but I think now is the time for the big reveal.
I have often commented on the lack of good quality or interesting yarns available to Australia and so I decided rather than moan and groan about it I would do something about it!
I made some enquiries to yarn manufacturers and distributors and had some promising replies.
So without further ado I present to you the birth of
Live 2 Knit
a limited (at this stage) range of luxury fibre yarns at affordable prices.
My current offerings include a
Bulky weight 50% Baby Alpaca 50% Silk yarn
which is to die for, and buttery soft, once you touch it you won't be able to put it down, also a
Sport weight 100% Baby Alpaca yarn
which is gorgeously soft with a fuzzy halo and perfect for next to the skin wear.
I hope to be able to offer both these yarn in Sport, DK and Aran weights in future as well as expanding the range. but of course that all depends on you and how successful this venture turns out to be, Please let me know if this is of interest to you or what you would like to see on offer in future and I will endevour to provide it.
Now onto more mundane topics, the socks are Finished!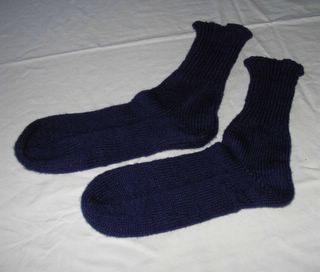 But not without some final obstacles to overcome. The cuff bind off was too tight.
I tried the stretchy K1,P1 bind off from the Twisted Sisters Sock Workbook, wouldn't fit over J's heel.
So I pulled it out and tried going up a few needle sizes, still no good.
I increased 1 st every knit stich, better but still wouldn't quite get there. In the end doubled the number of stitches, increasing in every stitch, this is better but now a tad on the loose side, any suggestions?