Tuesday, April 05, 2005
Babies & Socks
... She can make you feel good
She can make you feel it's all worth while
Just by her smile
Oh my little ray of sunshine ...
Little Ray of Sunshine - Axiom
Welcome to my neice, my brother & SIL's third child, Annelise Maree born 12.07am Wednesday 30th March 2005 weighing in at 8lb 8oz.
Hello Gorgeous
Knitting progress: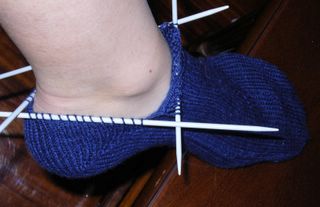 Short row heel mkIII
Now that Clapotis is done I can concentrate on Selma and J's socks. Socks first, we have heels, or rather a heel. SRH mkI was a bit on the small side, to the point of cutting off the circulation in J's foot, but mkII seems much better, well it fits me anyway. Luckily J and my feet are around the same size so sizing is easy when his feet are otherwise occupied. There just might be a fight for access rights when these are finished, it could get ugly.
I haven't progressed much further on Selma, though I did knit a bit on her last night and will try to get a bit more done tonight.