Wednesday, September 01, 2004
Pictures
Bought a digital camera today to try to figure out how to post pictures. It turned out being a fantastic bargain too. First I saw it advertised at Big W but when I went to get one they told me they had sold out and weren't getting any more in, so I had a hunt around and finally found the same model at Kmart, they had it advertised for almost twice the price but because they have their policy of beating any advertised price by 10% I actually got it for around $20 cheaper than if I had bought it at Big W in the first place. Gotta love that.
So here is where I'm up to at the moment with Le Tie & Dye
Left Front/Back and Arm, love that colour fade!
It still needs some serious blocking but that can wait a bit. I cast on the right front/back on Sunday but haven't got very far with it so far, tiny needles make slow work.
Here is what it should look like when it's finished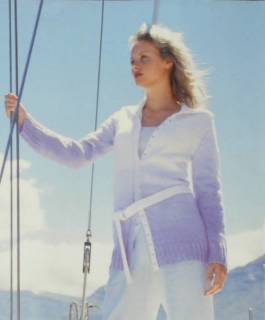 Stylish Tie & Dye Gilet
I have made a few changes though, I want to put a two way seperating zip in it so have modified the front band to accomodate it and so the collar will have to be modifed slightly too. Any ideas where I can get a two way zipper in Aus, I've hunted around everywhere but no luck.